U mojoj posljednjoj objavi (a također i prvoj službenoj Veganskoj vinjeti), koristila sam termin "vegani" kroz prizmu prehrane, u smislu biljne prehrane bez životinjskih proizvoda, te do neke mjere i integralne biljne prehrane bez životinjskih proizvoda, kako bih poduprla argument koji sam tamo obrazlagala. Nisam izričito koristila termin "plant-based", odnosno "biljnu prehranu", što bi onda moglo izgledati kao da je veganstvo "samo" način prehrane. Htjela bih razjasniti nešto ovdje: Veganstvo NIJE samo suzdržavanje od mesa, mlijeka i mliječnih proizvoda, jaja i drugih životinjskih "proizvoda". To je etički stav protiv zlostavljanja, sakaćenja, silovanja i klanja trilijuna i trilijuna životinja diljem svijeta. To uključuje eksperimentiranje nad životinjama, lov, cirkuse, borbe bikova, jahanje konja i sve druge aspekte ljudske aktivnosti koji uključuju životinje osim spašavanja i brige o njima, bez toga da želimo nešto zauzvrat i općenito puštanja životinja na miru. Životinje nisu tu za nas, već s nama, te imaju ista prava kao mi.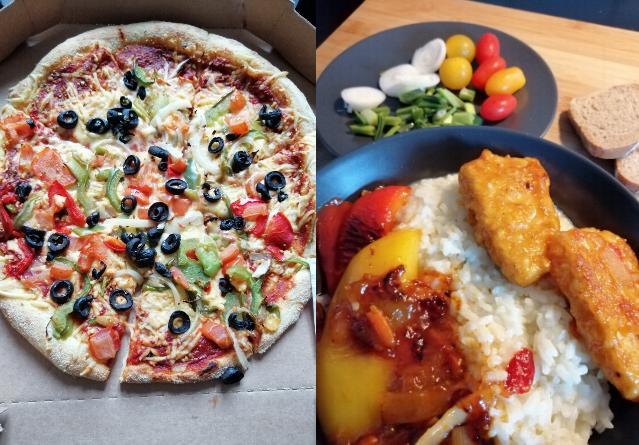 /Narudžbe veganske hrane i domaća veganska jela/
Međutim, spin mašine zlostavljanja životinja su se svakako oznojile radeći na preuzimanju termina "plant-based" (u slobodnom prijevodu, "bazirano na biljkama") kako bi taj termin razvodnile i učinile poruku nejasnom. Ovo je tačno za sve zemlje, bez obzira na njihov nivo razvoja. Dio uspjeha u tome se oslanja na urođenu nejasnoću termina. U zemljama poput moje domovine – Bosne i Hercegovine – termin "plant-based" se obično prevodi kao "bazirano na biljkama" ili "biljna prehrana" (plant diet), ali termin "based" ili "bazirano" je sam po sebi neisključiv prema drugim stvarima i zapravo nagovještava samo temelj, kod kojeg nije neobično ili čak je očekivano da ima nešto drukčije iznad tog temelja.
Isto se može reći za engleski i druge jezike. U rječniku Cambridge Dictionary, termin "plant-based" je definiran ovako:"consisting or made completely of plants, or mainly of plants" ("sastoji se ili je napravljeno u potponosti od biljaka ili većinom od biljaka"). Pravilo nasuprot korištenju? Ne baš u ovom slučaju. Naprimjer, razmotrimo frazu "temeljeno na istinitoj priči" na početku mnogih poznatih Hollywoodskih filmova. Da li to znači da je film istina, jedina istina i ništa drugo osim istine o onome što se dogodilo? Nimalo. Dakle, jezična podloga ovog termina je, nažalost, manjkava, jer se može razumijeti u smislu procenata, a to nije ono što je etički stav. Npr. Ne može se reći da je dobrobit djeteta također dobra čak i djelimično, što znači, npr. da je bolje zlostavljanje djeteta samo navečer u odnosu na zlostavljanje tijekom cijelog dana. Zbog te zbrkanosti, može se percipirati da je mnogo drugih, životinjskih "proizvoda" također prihvatljivo i kao takvo lako dodano u "jelo temeljeno na biljkama". Uz to, riječi poput "većinom" i "pretežno" se često bacaju u isti koš s ovim terminom i smatram da to nije dobro u smislu jasnoće antispecističke poruke. Ovaj nedostatak nevegani lako preuzmu da pokušaju potkopati načela veganstva.
U visoko razvijenim zemljama, trud lobija za zlostavljanje životinja ide istim putem. Gigant proizvodnje hrane Tyson čak je imao "plant-based" asortiman proizvoda koji je bio promoviran svim ljudima (čitaj: veganima) koji su spremni primiti tu poruku, a da uopće nije bio veganski! Prijatelji vegani, znamo da moramo provjeriti oznaku sa sastojcima, jer naziv ne znači ništa. Određeni izvori (ovdje, ovdje i ovdje, uz druge izvore) govore i jasnoj razlici između veganske i prehrane temeljene na biljkama, a moja pretpostavka o tome je da je to razvodnjavanje termina potpomognuto medicinskim tekstovima koji gledaju na prehranu temeljenu na biljkama u istom smislu kao što je objašnjeno u gornjem paragrafu. Postoji ih mnogo i za većinu medicinskih istraživača, termin "veganska prehrana" je jedini koja je shvaćen u etičkom smislu. Vidjeli smo povećan interes mainstream publike o zdravstvenim posljedicama klasične prehrane, koji je postao eksponencijalno veći nakon utjecajnog izvještaja WHO-a (Svjetske zdravstvene organizacije) o mesnim prerađevinama i crvenom mesu kao karcinogenima, te je izlijevanje i razvodnjavanje veganske poruke kroz "plant-based" vjerojatno počelo globalno u isto vrijeme. Tad sam otprilike i ja počela razumijevati razliku između termina "temeljeno na biljkama" i "veganski" , jer je prvi, nažalost, bio sve više i više percipiran i namjerno korišten pogrešno od strane pojedinaca i kompanija kojih nije briga za etiku. Kao lingvist, stalno pokušavam analizirati svoj jezični input i output gdje želim da moje riječi budu jasne i jednostavne koliko je više moguće, pogotovo u aktivizmu za životinjska prava. Moramo ovoga biti svjesni.
Nakon svega rečenog, razumijem brigu oko poravnavanja veganstva samo sa prehranom. Međutim, prehrana je zasigurno najveća borba i prag veganstva, jer za mnoge druge oblike zlostavljanja, sakaćenja, mučenja i klanja, mnogo je manje ljudi koji to podržavaju (npr. problem borbe protiv bikova, ili jedenje pasa i mačaka u nekim zemljama u Aziji – postoji mnogo zapadnjaka koji su aktivni protiv toga, dok istovremeno sami nisu vegani). Definicija ispravne, etičke prehrane mora zato biti vrlo jasna. Možda bismo trebali ojačati termin sa pridjevom "antispecistički"? "U potpunosti"? Vidjet ćemo. Zasigurno je ipak to da ono što unosimo u svoje tijelo treba biti potpuno slobodno od životinja, jer je to jedina ispravna stvar. Životinje su svjesna bića, te je moralno i etički pogrešno da im činimo bilo šta što uzrokuje bol, patnju, tjeskobu, bolest i nelagodu. Postani vegan – i budi na strani etike.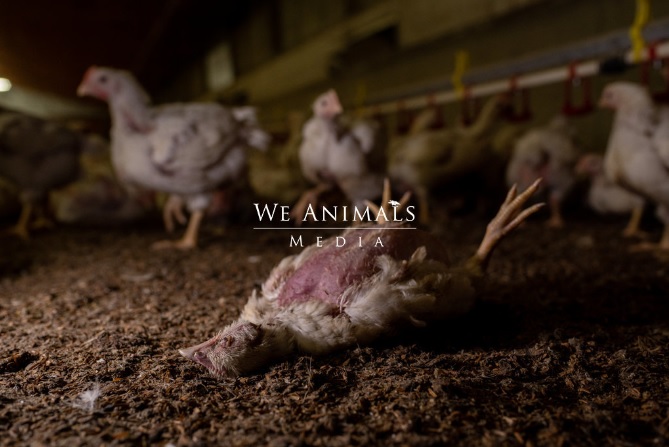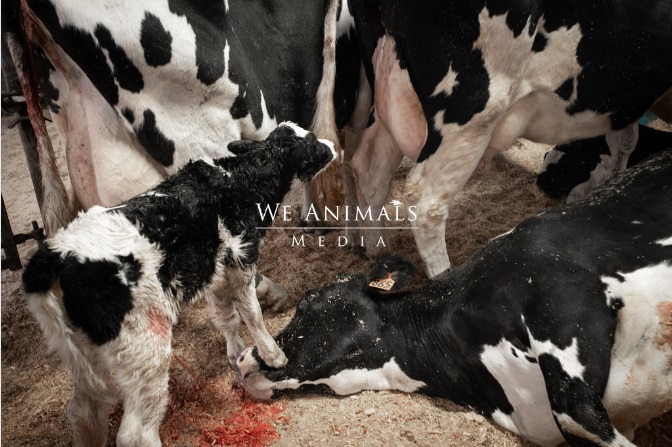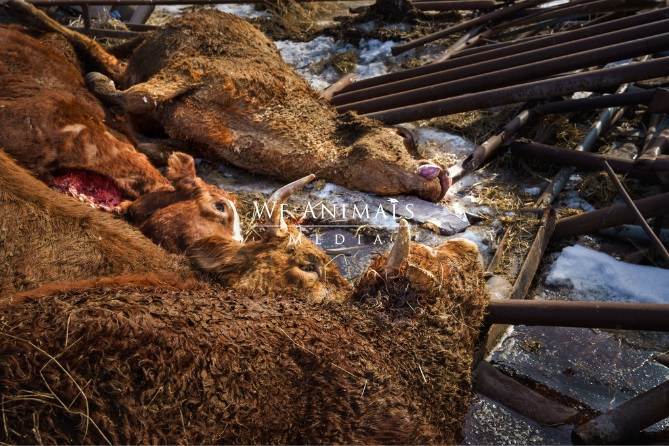 /Slike sa WeAnimalsMedia.org sa različitih farmi/
*Vidimo svjesne napore u sijanju zabune na drugim poljima – naprimjer, trebamo obratiti pažnju na termine "veganski" i "cruelty-free" kod kozmetičkih i sanitarnih proizvoda, jer, iako logika diktira da znače isto, prvi zapravo znači "bez životinjskih proizvoda", dok drugi znači "nije testirano na životinjama".