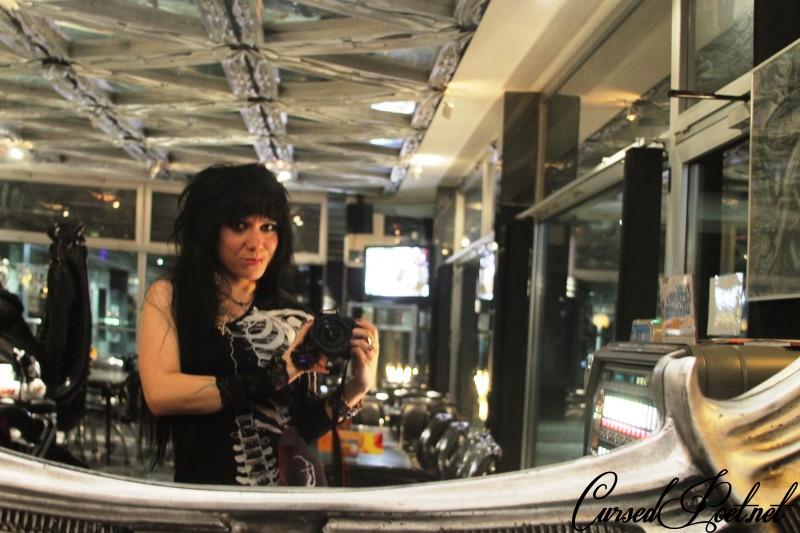 I find it hard to believe that it's been two weeks already from the beginning of our trip to Switzerland (by us I also mean my friend Claudia) – the one we've been planning since July. Even though time flew even faster for us in this enchanting country, I'm glad it passes by quickly here, too – because every second it does, we're getting closer to visiting it again. It's not that I have left a piece of me there… it's actually a piece that was always there, and we reconnected for a moment. Those landscapes I feel close to my spirit, the land that witnessed the greatest artist of the world.. and we were finally there on our winter holiday, although it was far from "just" a pleasure trip.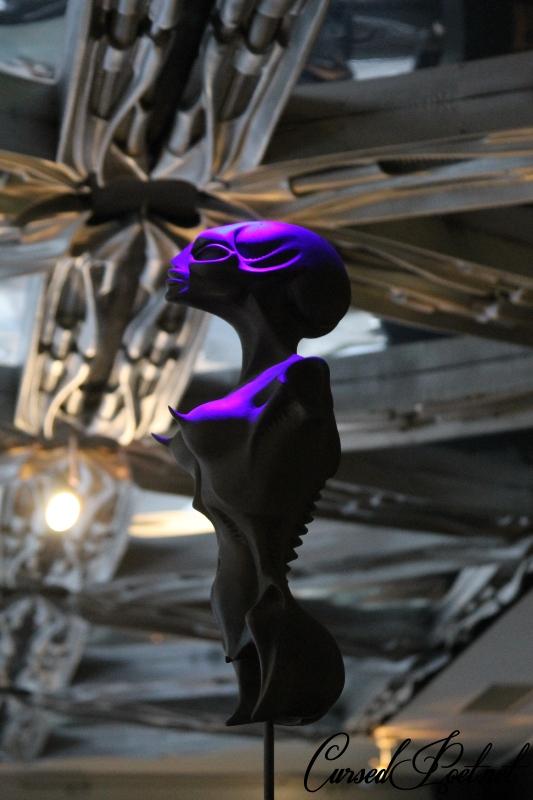 (Giger bar, Chur)
Now, those of you who follow my work know about the existence of the connection to H.R. Giger (the love, the trip to Gruyères, the book, the poem, the PhD thesis), so this particular visit was actually my field research for the dissertation – for which I've already written the synopsis and talked about with my mentor (ah, the November trip to Osijek with my friend Nizama – that deserves another post entirely! Soon). I wanted to go to the very beginning, and that means Giger's birthplace, the gorgeous city of Chur. After finding out that Leslie Barany, Giger's agent, was also in Switzerland at the time, we quickly modified our plans to include Zurich as well. It was the perfect opportunity to meet him and thank him personally for the wonderful gift of Shaft No. 7, and of course, to meet the city as well, having in mind that before I simply passed through the train station and the airport. As we say in Bosnian, "when it's a ball, then let it be a masquerade!" There was also someone I really wanted to see again, and that is Tom Gabriel Fischer, the singer and mastermind behind Triptykon, the band I had the distinct pleasure of seeing live in December. Alas, my busy schedule hasn't allowed me to write about it here – so in short, I got to meet him and his band members backstage (again, because of the book/Giger connection) and I spent a couple of truly lovely hours in conversation with Tom! His eloquence, poetic soul, and beauty truly took my breath away. So, yes, Zurich all the way.
That way required me to first take a bus to Vienna, and then catch a night train to Zurich with Claudia. We arrived at 8 a.m., and took plenty of time to go sightseeing, making sure we exchange el dinero to Swiss francs first (perhaps our arrival was the cause of that francs value jump, ha!) – the "obligatory" tourist route from the train station towards the old town, following the river Limmat, crossing bridges here and there, admiring the churches Fraumünster and St. Peter's Church, the Rathaus, early winter morning awakening the city… we even stumbled upon a vegan tea house and rested a bit before picking our stuff up from the station and finally checking in the hotel.
The day provided a suitable intro for what followed in the evening. Meeting with Les was for me was both an intimidating and thrilling experience – here I am, about to meet a man, a visionary, who has shaped modern art on both sides of the pond for decades, who has a number of extraordinary artists under his wing, who has been a close friend of Giger's – what do I say? What do I wear? With a head still full of questions, we met Les in a cool bar near our hotel called "Cactus", and from then on we proceeded to Der Schwiizer. This is a nice restaurant in the vicinity of Kunsthof 5, a renowned gallery owned by Hans Kunz, also a close friend of Giger's, who had the largest collection of his works before, while still maintaining an impressive number of items, coupled with regular exhibitions and other events dedicated to Giger. Yes, Hans joined us as well! You can consider both Claudia and me mind blown right there. Evening became night as we sipped some wine, enjoyed excellent meals made by Vito the chef, who got a headache when we told him about our vegan/vegetarian disposition (charming guy!), but the highlight of it all was certainly having a pleasant conversation about Giger and his art. We touched upon other subjects as well, and later in the evening, we were joined by art curator and collector Marco Witzig (all thanks to Les), who got me a great gift – "Alien Diaries"! For my research! Not only that – I also got "HR Giger Polaroids" and a couple of really rare printed photos of his early work. Can you faint and still somehow be conscious at the same time? After that, we proceeded to the gallery, where we saw the current exhibition called "The Dark Side Of The Chip" (I could've sworn I saw the digits of my old cell type there! Highly interesting concept of industrial digital junk we leave behind without a second thought), and some of the standard Giger sculptures on display (the Bambi Alien, for example). There I got the "Tatuaz" magazine from Hans, featuring the article on the funeral in May, and another amazing gift – the "Guardian Angel" pendant from Les! Gasp! This act of appreciation left me speechless… so, in case I didn't show just how overwhelmed and grateful I was for everything, dear Les, let it be known here: thank you!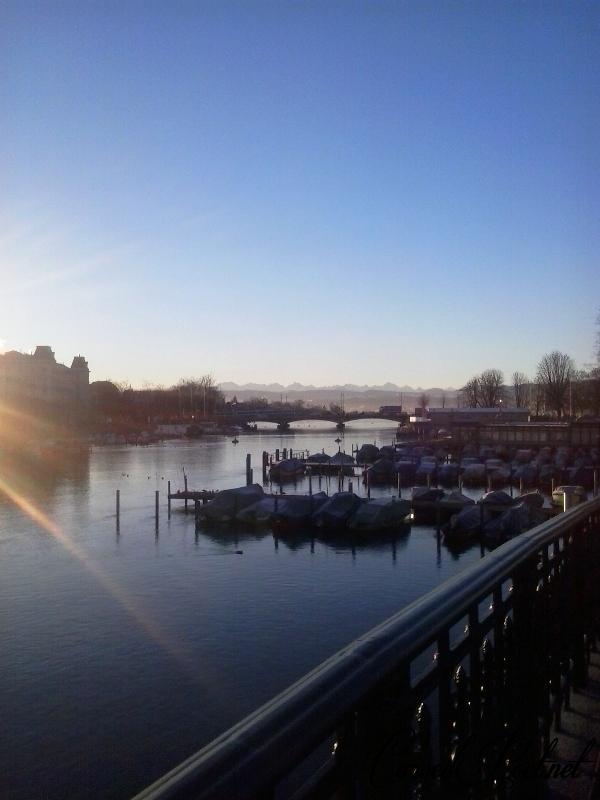 With a truly fascinating night behind me, I found it hard to even think of sleeping, especially because the day after promised new meetings on the horizon… Ah, Zurich on a fine winter morning! A totally enchanting experience. The cold pleasantly snapping at my legs, the sun greeting the cobbled streets of the city… I felt the rush of the burning youth inside me while I went to meet Tom in a nice little bar in the old part of the town. Was it just me or did it really feel like a meeting of old friends? I don't have the answer… but it was infinitely inspiring to be in his presence again. He is the poet of the highest kind. He takes every single movement, form, and word – and transforms them into verses. The hour passed quickly by, and as Claudia and I had an arrangement with Marco to visit him in his atelier and view his private collection of Giger's paintings, we made our way to our meeting point – the train station. With the most charismatic companion ever, I'm not really sure if I got even half of the things flying in my mind right, because all my lips could do is smile and talk nonsense. Rarely am I in the company of someone who has such an impact on me, so I hope he will not take my words as everything I had to say. The glorious chaos that were my thoughts cleared up only after days of reveling in this special acquaintance.
After again leaving the mountain of our things at the train station, we travelled about 10 minutes outside of Zurich to see Marco. There the wonders continued, because it felt like we stepped into another realm as soon as we entered the atelier (and even before the door, because the outside hallway was decorated with a Giger reproduction). The space inside, however, held only originals. Every available centimeter of the wall was covered in Giger. Then the sculptures, the desk and the chairs… it was good to breathe a bit first in the spacious living room, because the upper floor was home to even more paintings, drawings, some of them on display, while others stacked inside custom-made preservation cabinets (for lack of a better word)… oh, and yes, he has the mirror as well. Plus the magazines that had an article on Giger's art, the early ones with "Atomkinder", the earlier and never before seen paintings in India ink (which I find so appealing), all kinds of memorabilia… I truly wonder how it is to live in such a place. On top of it all, Marco was the perfect host, and we spent a great time talking about the art and its legacy, which was eye-opening as well. To further help with my thesis, he gave me another batch of books in a moment I could only describe as "otherworldly" – as if "Alien Diaries" wasn't enough, I was also given a bunch of editions I didn't have, along with some that are fairly impossible to find online. Everything to help me with the writing of my thesis. Plus some awesome exhibition posters, and even Giger absinthe! Be still, my heart! My gifts were so heavy that we had to double and triple the bags to put them in. Words cannot describe how grateful I am for these things that are, despite their materialistic nature (as in, they are "merely" paper, after all), so very important to my spirit, that I can only express my deepest gratitude with a big "thank-you" and a special dedication in my thesis.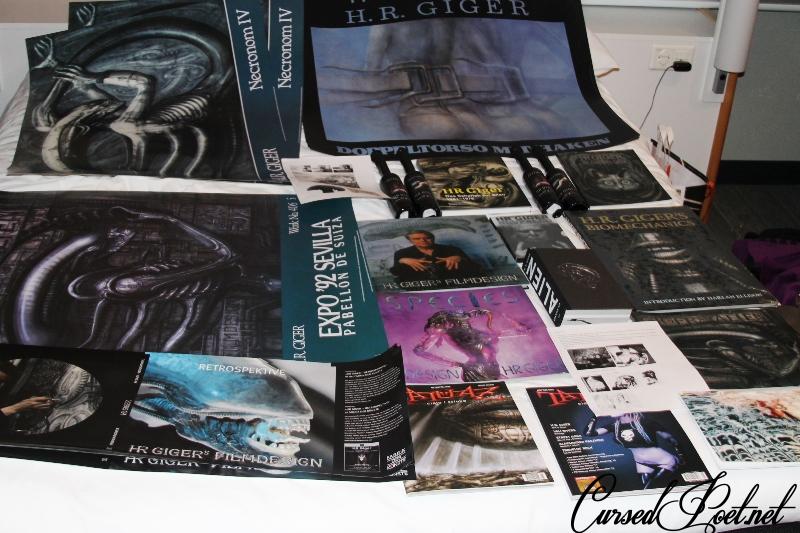 (My treasure!)
Marco was also kind enough to rebook us for Chur in the afternoon, so we left the atelier with a heavy bag of gifts and a light step, eager to see what the next station has for us (and Marco even accompanied us to the station – how sweet!).
If you haven't gathered from my previous trip – I love travelling by train through Switzerland. Now, Bosnia and Herzegovina is mostly known for two things – and the second thing is nature. However, when looking at the magnificent Swiss mountains, even from the smudgy train windows, I have to say we still need a lot of "decoration" in order to top them (pun intended). The crisp cold air greeted us as we exited the station and made our way to the hotel, which happened to be shaped like a pyramid. As we got upgraded to the premium suite, we actually stayed at the very tip of the hotel, overlooking the industrial zone of Chur from all four sides. Tossing the stuff inside, we quickly went to the Giger bar to have our first drink there.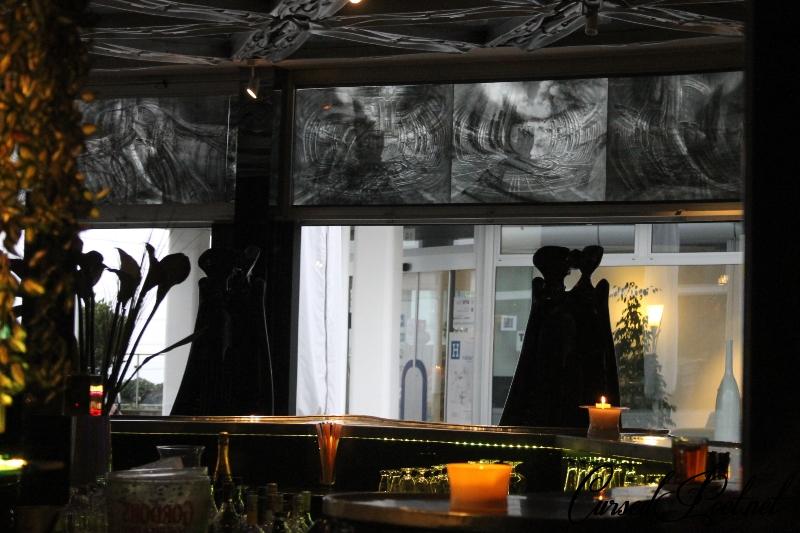 I've said it before, and I'll say it again: Giger bars have the best tea in the world. The "unusual" design inside enhances the senses, making it a very interesting experience.
A few days before my trip, Les was so kind to get me in touch with Giger's first wife and companion during the "Alien" years (and after), the lovely Mia Bonzanigo, who agreed to meet me for an interview on my first formal day in Chur. What I really didn't expect was how quickly I was taken by her wonderful presence – almost immediately upon our meeting in the hotel lobby. What a personality! I swear you could get more charismatic yourself if you just spent one minute with this breathtaking woman. We went to the bar again, ordered some hot beverages, and started chatting about Giger. She provided me with the most fascinating and useful info I could never find anywhere else – this is exactly why I needed to go to the "cradle", to the beginning, in order to make the skeleton of the thesis and have the "right" feeling in analyzing the meaning in his works. Thank you, dear Mia!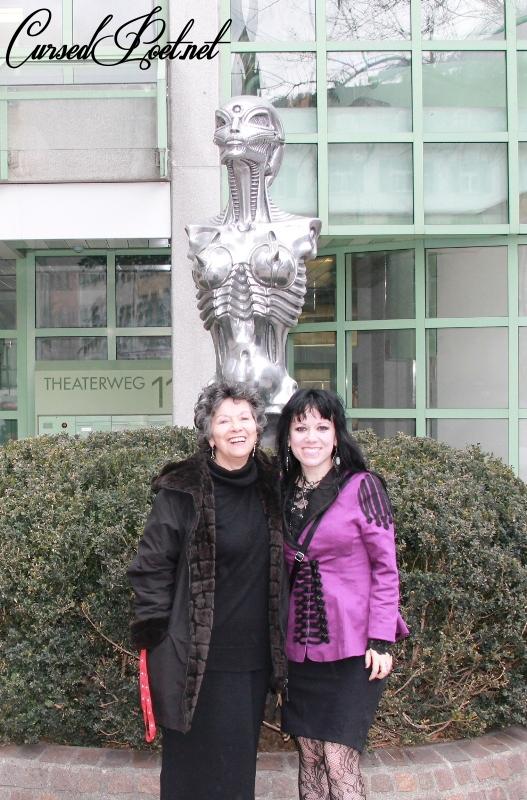 After the interview, Mia even took us through a short tour of the old town, showing us the house with a pentagram sign above the door, and of course, Giger's childhood home. Le sigh! We then had the pleasure of visiting her home and meeting her husband Charlie, and that's where another wonderful moment happened: in a movie-like scene, she asked us to both hold our hand out and close our eyes. What she dropped in them were Giger pendants they had made a long time ago, based on his Baphomet painting. Both Claudia and I were so taken by this that we couldn't stop hugging her! We had adorned our necks with the pendants right away, and haven't taken them off since. I don't think we ever will. We then went to the place where they have the Female Torso displayed in the front, took some great photos there, and slowly made our way to the bus stop for the ride back to the hotel. In the midst of the first snowflakes that flurried around us, we said goodbye to our dear hostess Mia, who enchanted us beyond belief. This was the most exquisite encounter for me – the richness of her spirit and the quality of her storytelling, complete with a great sense of humor, are what made me feel like I was right there, at the Shepperton studios, on the red carpet at the Oscars, sitting with her on the steps and listening to her reading, while he painted away into the night… This incredible insight is what makes the work on the thesis all the more significant, because of the trust and appreciation that I have been showered with ever since the beginning of this odyssey.
Chur enchanted us too, as we took the time to walk around the old part and admire the architecture, especially the cozy, narrow streets that are home to monuments, fountains, and churches.
Marco had yet another "gift" for me – this time, in the form of a contact of Walter Lietha, owner of a bookstore in Chur, who was also a friend of Giger's and an artist himself, although in the realm of poetry/music. This excellent news came just in time for us to spend the next day in search of the bookstore and Mr. Lietha, and that search was very successful, as we not only found the bookstore fast, but ended up spending hours in the company of this mesmerizing musician, philosopher, poet… – you name it. Again I got amazing things from the interview, and as we were in the bookstore, and people were coming in, engaging in some interesting conversation we sort of overheard, we then realized with whom we had the pleasure of speaking – this is a man with an entire compendium of knowledge, an artist whose grasp of the world goes deep below the surface (and the superficial), that I felt we could have continued our conversation in days to come. During our interview, another childhood friend of Giger's swung by, and none other than Schimun Murk, a famous entrepreneur and passionate lover of Spanish street music, who offered a story or two of his own about Giger (he also owns a private collection), and we ended up again showered in gifts – this time with CDs of both Walter's poetic expression and Schimun's flamenco band. We continued our chat in the nearby cafe, and then Schimun took us to a gallery with a couple of Giger's works displayed there. A mutual current of thoughts shot through both our minds then – Claudia and I need to revisit Chur, and meet these beautiful people again.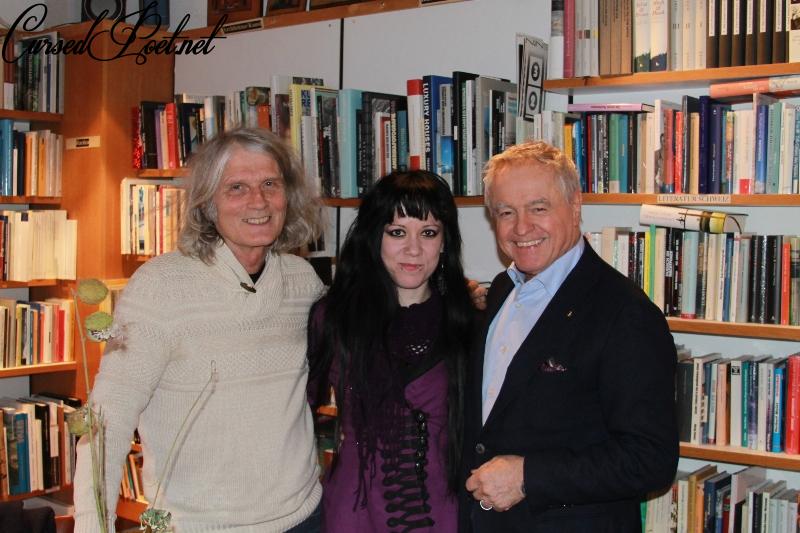 (With Walter and Schimun, "Narrenschiff" bookstore, Chur)
In the meantime, the lovely Giger bar owner Ivanka (who is actually from Croatia) got used to us "living" in the bar, and taking photos of every square centimeter of the place, so parting with both her and the bar fell heavy on our hearts. The thought of coming back as early as next year alleviated some of the sad thoughts, so we left Chur after four days and promised ourselves a return – to celebrate the defending of my thesis perhaps!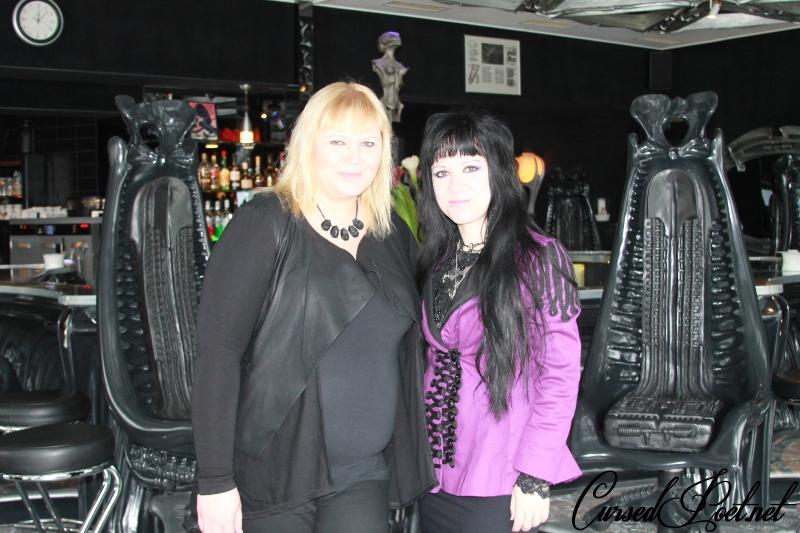 A few days after that, it was time for me to leave Vienna too, but even after ten days or so of being back home, I can honestly say that I haven't returned in full spirit. It is as if I have found even more of me there. A piece in Gruyères, a piece in Zurich, another one in Chur… I find my thoughts returning to those vibrant conversations, to the awe I felt in the presence of such strong individuals, who may have a view on Giger from different perspectives, but who have one unifying trait – they all share a deep admiration and respect for him and his opus. The chance to spend time in the company of these incredible group of people is a treasure that has left an infallible mark on me, and the gifts I have received serve as precious reminders of those moments, and the task that is now on my horizon. The burden of the ambiguous significance has finally been lifted – the meaning, the search of which I have always been plagued with, has now become perfection and harmony in one – a brilliant vista of those breathtaking landscapes whose resident I have become in the most thrilling fashion.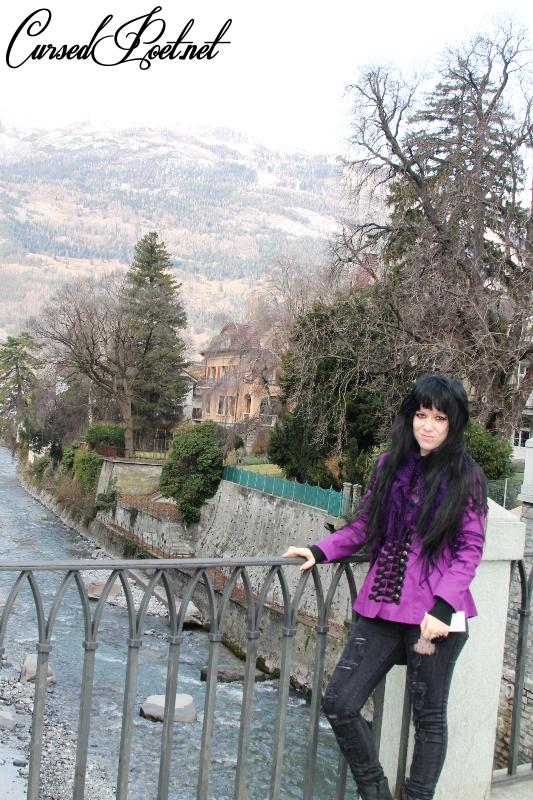 My deepest gratitude to everyone who have created this odyssey for me: from my mom, to my dear Claudia, to Les, Tom, Hans, Marco, Mia, Walter and Schimun – I'm forever indebted to you all. Until soon, my dear friends! Now, I shall write, my thoughts filled to the brim, starting another, writing odyssey.
/Photo by: Claudia Lang and Ilhana Škrgić/