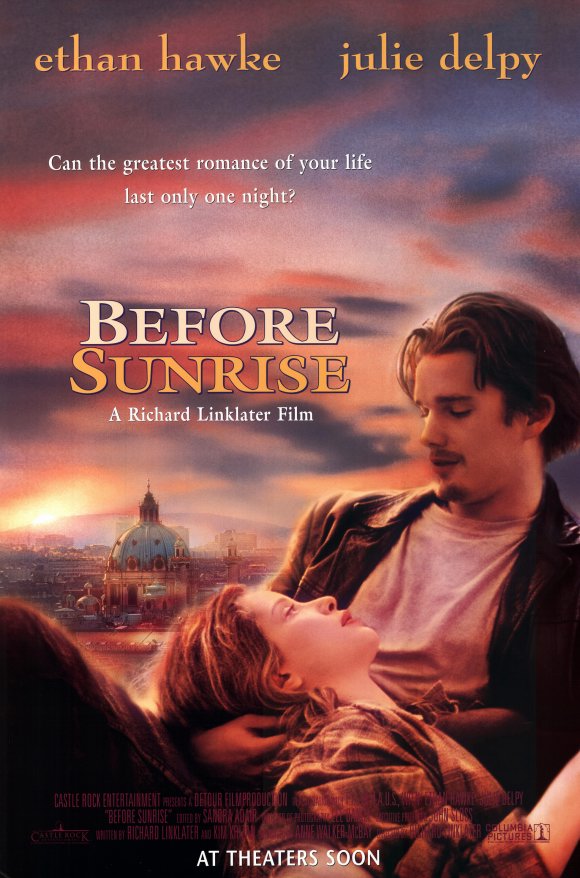 "Before Sunrise" is an artistic romantic drama about two young people, American vagabond Jesse (Ethan Hawke) and French student Celine (Julie Delpy), who meet on a train to Vienna and decide to spend one day and night walking through the streets of this city, while enjoying their time together and discovering a deep connection between each other. It was directed in 1995 by a renowned filmmaker Richard Linklater and entered the 45th Berlin Film Festival, where Linklater won the Silver Bear for Best Director.
Film's wonderful artistry essentially shows the meeting of soulmates and an intense, albeit short, period of time they spend together. Even Vienna's most breathtaking locations take a back seat to the actual conversation between these two characters, where they jointly weave their stream of consciousness into something beautiful and very, very rare. The closeness between them is not a coincidence, because they were meant to be on the path of each other's lives, and it's a unique joy to watch it unfold on the silver screen. Over the course of years, this movie has not lost its charm, becoming probably the best romance movie of all time.
I don't remember the first time I saw this movie, but it was shortly after the war in Bosnia. Funny thing is, Celine even mentions it in the movie and her frustration about no one doing anything for us, the people caught in it, which not only makes me respect this cinematic creation even more, but also gives it depth, along with many other parts of their conversation and thinking. At first I didn't get all the subtle references of the movie, since I was too young, but it made a great impact on me. Revisiting it some years later, I enjoyed it tremendously from an adolescent point of view and then it really put a groundstone in the way I imagine magic in life and love. "Before Sunrise" hasn't really created my view on these things, inasmuch as it has showed me exactly how I want my own life to look like – and love – wonderful encounters, true connection, quality of time spent as opposed to quantity.
This recognition brought me amazing times in life, and wanting to create and experience even more, I embarked with my best friend Claudia on a journey through Vienna, following Jesse's and Celine's footsteps. It took us two days and even then we couldn't get to all the locations we wanted to, however, I believe we did this movie tour justice!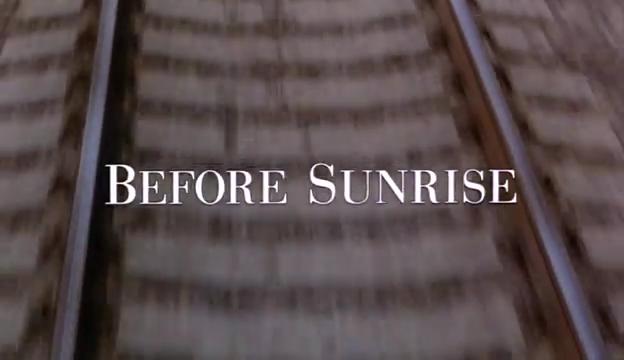 The first landscape is constructed with music – while we see traveling on railroad tracks, the incredible "Dido and Aeneas" by Henry Purcell plays dominantly on screen, a sign of the fateful things to come. Jesse and Celine meet on a train and enjoy each other's company more and more, until it's time to part – or maybe not, as Jesse takes a bold step and asks Celine, in the name of their chemistry, to spend a day with him in Vienna.
The first official stop in Vienna is city's train station Westbahnhof on Europaplatz, at the beginning of Vienna's main street – Mariahilfer Straße. We managed to find the same platform and guess what – the train from Budapest arrives at the same spot!
However, if you think following the steps of these charming characters is easy – think again. Even when one of us is actually Vienna born and raised, it was still difficult to get orientation to the closest location after that, since the film was shot on a zig-zag path of locations throughout Austria's capital. Zollamtssteg Bridge, where they meet the two guys from a play about a cow would have to wait for more time, as we decided to visit the incredible record store, in which Jesse and Celine listen to Kath Bloom and enjoy the "almost-kissing" atmosphere. The record shop is called Teuchtler Schallplattenhandlung and is located at Windmühlgasse 10, 1060 Vienna. This is truly a vinyl collector's heaven – got stoked myself with the array of classical music, show tunes, 80's legends, way up to the present – and the shop itself has been there since 1948!
Sadly, the listening booth isn't working anymore, since it gave way to a regular door into a yard between the buildings.
The owner of the record store was kind and smiled when we said that we were doing the film tour, as there are a lot of people coming in the store doing the same thing! While we were there, a Japanese couple looked suspiciously like "Before Sunrise" fans and ended up buying a bunch of records as well, though I am not certain if they got a great offer on those like I got on mine. "Teuchtler" is a very charming place and definitely one I will be visiting (and roaming through the endless rows of vinyls) again!
Next in line – a leisurely stroll through Maria Theresien platz, a breathtaking square located between the Natural History Museum and the Museum of Fine Arts. Blink and you'll miss these gorgeous shots!
Our next location is "Cemetery of the Nameless" ("Friedhof der Namenlosen"), which wins top spot as the most far away location in this movie. It is located at Alberner Straße 54 (practically suburbs), and bears its name for a reason – bodies found in Danube were buried in this graveyard.
From then on, Jesse and Celine enjoy an evening in Vienna's famous Prater amusement park. Our couple goes for a ride in the Prater Ferris wheel (Riesenrad) and share their first kiss.
After Prater, there are a couple of scenes shot at "The Little Cafe" ("Kleines Cafe") on Franziskanerplatz, Maria am Gestade church at Salvatorgasse 12 (which was sadly closed), a stroll by the Danube Canal (Donaukanal), where Jesse and Celine get a lyrical gift by a poet – an unusual ode to their encounter and growing affection, as well as a shot at the artistic venue Arena at Baumgasse 80.
Ending their conversation on men and women, Jesse and Celine walk through Schreyvogelgasse and find an interesting sight.
Right on the corner of this street, there is a belly dancer surrounded by a couple of passersby. Jesse and Celine enjoy the show.
Our couple continue their walk:
The makeshift bench is gone, but the emptiness of this passageway reflects Celine's thoughts on what lies between two people: "…If there's any kind of magic in this world, it must be in the attempt of understanding someone, sharing something (sigh). I know, it's almost impossible to succeed, but… who cares really? The answer must be in the attempt."
After the Jesse-Celine connection klicked for the nth time in this little alley, it was time for something fancy. Enter Cafè Sperl!
This charming establishment, located at Gumpendorferstrasse 11, was the host not only to the lovelies from "Before Sunset", but also movies such as "Prince Rudolph" and "A Dangerous Method", starring Viggo Mortensen and Michael Fassbender. The pleasant waiter at Cafè Sperl also told us a funny anecdote from the filming of this movie last year and kindly seated us to the exact same booth where Jesse and Celine have their "telephone game".
A short conversation on the Albertina Palais Museum balcony follows:
After deciding that this is probably their only night together and that they should make the most of it, the couple goes from the ship Johann Strauss to a club called Roxy at Operngasse 24, 1040 Vienna. Unfortunately, we got to the club during the day, so it was closed, but it's still there!
Sadly, same thing cannot be said for the park in which they spend the night drinking the bottle of wine from the Roxy. This was also the toughest location to find, as the park is now nothing more than a parking lot to a derelict hotel:
In case you wondering how we could make out the location, the morning-after scene helped.
The morning finds lovers way too soon, and they slowly make their way through Pressgasse and back to the Albertina Palais museum balcony, where Jesse recites those relevant lyrics from W. H. Auden about time…
Jesse and Celine make it back to Westbahnhof with a promise to meet again in six months… but where and when they would eventually meet each other is unbeknownst to them, as they think about all the places in Vienna they coated with the magic of their encounter, led by "Andante" from Bach's "Sonata No. 1 in G Major, BWV 1027". Doing this great tour through Vienna gave us the pleasure of revisiting those places in real life and feeling a little of that magic too, not to mention the fun we had! We saw Vienna the way Jesse and Celine did – as an incredible backdrop to equally incredible love story. As for these characters we love, all we can say is: our next stop is Paris, bathed in the light of "Before Sunset"!
Author wants to thank www.movie-locations.com for addresses of particular locations for "Before Sunrise" and her trustful companion, as always, Claudia Lang! A sea of graditude goes to Richard Linklater, Julie Delpy and Ethan Hawke for creating this movie and the sequel(s)!