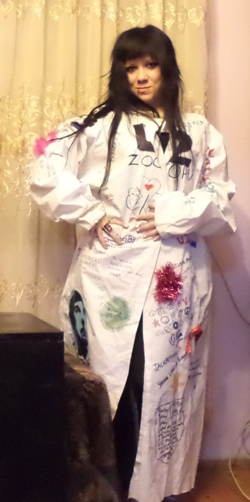 Život se kreće tajanstvenim putevima. Ono što je započelo kao poznanstvo putem uzajamne ljubavi za jedan od najvećih bandova na svijetu je ubrzo preraslo u suradnju na veoma cool projektu, i nakon nekoliko emailova, sada mogu reći da sam do kraja zadivljena svjetlom koje je moj prijatelj James!
Band u pitanju je U2. Oni koji me osobno znaju također znaju da je to jedan od prvih bandova koje sam počela slušati (daleke 1989.), te da je moj prvi koncert ikad bio onaj koji su U2 održali na turneji PopMart u Sarajevu 1997. godine. Sada na ono što možda ništa znali otprije: nakon mojih pisanja na U2.com, James mi je odgovorio i nakon što me je upoznao sa svojim super projektom "laboratorijskog mantila preko cijelog svijeta", bila sam zainteresirana da saznam više i da se uključim. Da, to je zaista bio pravi laboratorijski mantil kojeg su U2 fanovi diljem planete potpisali i ukrasili (uz mnoge darove, DVD-e i mnoštvo drugih stvarčica)! Mnogo bijele površine je tu bilo da se pokrije, no dok je došao do mene, već je bio ugodno šaren!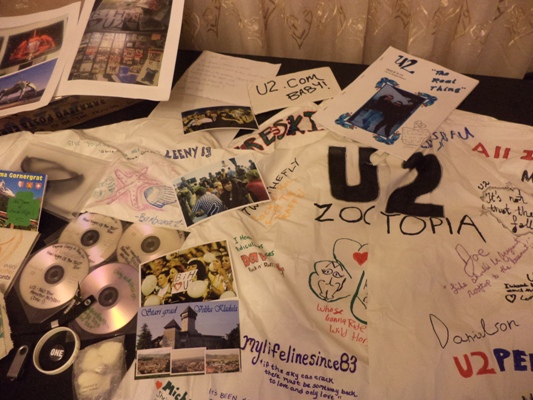 Stoga, uradim "obavezni" photo session u mantilu nakon što sam ga osobno ukrasila, završim na blog stranici U2 istomišljenika i Jamesovih prijatelja – i onda smo počeli razgovarati sve više i više, često i o osobnim stvarima. James mi se onda povjerio da voli poeziju poput mene, pa mi je čak poslao prekrasnu knjigu poezije iz 1927. godine!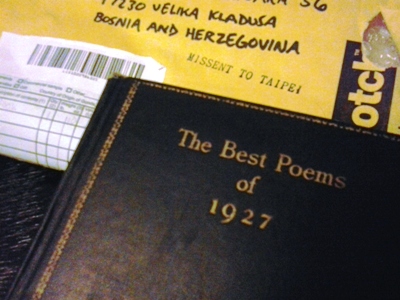 Dobro je da je knjiga došla do mene, jer je na pakovanju pisalo da ju je pošta zapravo bila pogrešno poslala u TaiPei (i dalje ne znam kako je TaiPei sličan BiH, ali nema veze). No, to nije sve – prije otprilike dva tjedna, konačno je podijelio vlastitu poeziju sa mnom – i inspiracija nije bio nitko drugi do mene! I dalje sam apsolutno oduševljena i crvenim se zbog ovog nevjerojatnog dara. Zauzvrat, želim da podijelim njegove prekrasne stihove s vama, dragi čitatelji, želeći vas podsjetiti da postoje fantastični ljudi oko nas, kao i prijateljstva koja vrijede zlato. Hvala ti, James, na ovoj pjesmi i prijateljstvu! Uskoro ćemo se zasigurno sresti na nekom U2 koncertu!

Love and Lights
(for Ilhana)
Daylight hours host the mundane and cliché
Quiet humdrum beat of the quest for pay
Lines of masses arranged in single file
Driving with glazed looks , mile after mind-numbing mile
Conforming
Resigning to boring
Comfortable and unbothered they seek to remain
Choosing feeling nothing over feeling any pain
Dreams of youth thus traded
For lukewarm nothing and mediocrity
Capalist façade of consumerism, slowly molding the insane
I met a girl in the darkness, born of star-filled night
Poetry and art flowing through her veins
Emitting the majesty of a raven in flight
Believes not in umbrellas, wants to feel the sensational rain
Wishing upon others "love and lights"
Light only needed where light doesn't exist
She's seen the most horrible evils man has to offer
She kept love alive on the precipice of war torn abyss
"dreaming out loud" becomes her
She sculpts words into masterful form
Not interested in what others see as "normal "
She has darkness, peace, goodwill and love and lights to keep her warm
She has a name others might find "hard to spell"
But its an honor to be able to see
A wordsmith of inspirational magnitude
Yet as sweet as a person can be
When shall I meet her?
I often wonder up in my mind
This lovely, starlit, intense child of the darkest night
Perhaps one day, perhaps never
The future might not get it right
But she will always be a brilliantly luminous inspiration
This dark girl full of love and full of light
Tags: friends, Ilhana Skrgic, James, love and lights, poems, U2, writing
This entry was posted on Ponedjeljak, Septembar 15th, 2014 at 12:01 am and is filed under
Music
,
Uncategorized
,
Pisanje
. You can follow any responses to this entry through the
RSS 2.0
feed. You can skip to the end and leave a response. Pinging is currently not allowed.